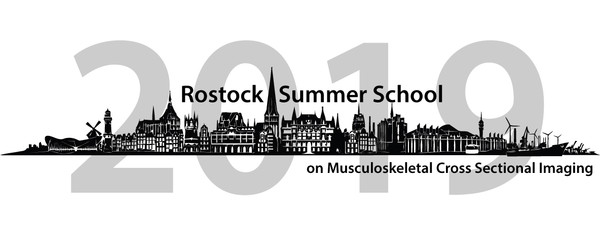 2nd ESSR Rostock Summer School on Musculoskeletal Cross Sectional Imaging 2019
Programme – Focus in 2019: "The knee and emergency radiology"
Day 1 (July 5th):
08:00 Registration
09:00 Short introduction
09:05 Welcome address
09:15 MRI of the knee with focus on cartilage
09:45 Menisceal tears
10:15 Acute and chronic ACL tear - primary and secondary signs
10:45-11:15 Coffee break
11:15 Osteoarthritis after untreated ACL tear and postoperative evaluation of ACL graft
11:45 Posterolateral and posteromedial corner, what you should report to the surgeon?
12:15 Assessment of Loosening and Rotational Malalignment Following Knee Endoprosthesis or Other Surgical Components
12:45-14:00 Lunch break and buffet
14:00 Rupture of the Posterior Cruciate Ligament: Preoperative and Postoperative Assessment
14:30 MRI findings of lesions involving cartilage and bone in the paediatric knee
15:00 MR and CT arthrography of the knee – when to do it?
15:30-16:00 Coffee break
16:00 Arthritis-related fracture risk
16:30 Imaging spondyloarthritis: Tips and tricks
17:00 Imaging sacroiliitis: Update 2019
17:30 End of lectures at day 1
17:40 Guided tour of the treasure chamber and University church
Day 2 (July 6th):
09:00 Short Introduction and Welcome address
09:05 Hand and wrist trauma
09:35 MR of vertebral fractures, how to discern benign from malignant
10:05 Polytrauma imaging
10:35-11:00 Coffee break
11:00 Thoracic cage trauma
11:30 Acute injuries to the quadriceps femoris muscle - a common sports trauma
12:00 Emergency room imaging – the ESR/ESER concept
12:30-13:30 Lunch break and buffet
13:30 Calcified soft tissue tumors - imaging spectrum
14:00 Bone marrow edema in arthritis: What have we learned and why do they matter?

14:30 Imaging of insufficiency fractures
15:00 Everyday MSK diagnoses that are easy to miss on MRI studies
15:30 Closing remarks
15:35 End of lecture programme
After the session 4, four posters with 12 quiz cases will be on display during the breaks.
Venue:
The symposium will take place at the old auditorium ("Alte Aula") in the main building of the University of Rostock, which is situated at the Universitätsplatz in the city center. Catering will be provided next to the lecture room.

Universitätsplatz 1
D-18055 Rostock/Germany
Registration and further information:
Mrs. Diana Röhner
Management assistant of the Institute of Diagnostic and Interventional Radiology,
Pediatric Radiology and Neuroradiology
University Medicine Rostock
Ernst-Heydemann-Str. 6
D-18057 Rostock/Germany
Phone: +49 (0)381 494-9203
E-mail: diana.roehner@med.uni-rostock.de
Course Director:
Prof. Dr. Marc-André Weber, MSc
Chairman
Diagnostic and Interventional Radiology. Pediatric Radiology and Neuroradiology
University Medicine Rostock